Yeah, I'm almost 25. But who's gonna stop me if I want to get new school clothes for my last year (hopefully) of college? Nobody, that's who. Here's what's on my list:
Mint Skinny Jeans (to pair with a million things, but the dreamiest outfit being a white top and my moccasins)
I need a blazer, obviously. I'm thinking one with ruched sleeves, like these from Charlotte Russe. Probably in black or gray, but maybe in a more fun color.
Some cropped light gray leggings are a necessity. I hope to find some like I found last year, with a wide waistband. They're so much more comfortable.
I don't have cowboy boots yet. I know, how am I breathing? But seriously, I need these from Charlotte Russe, as well. Because I don't want to spend a ton of money and it's easier to maintain slouchy boots (they're already creased).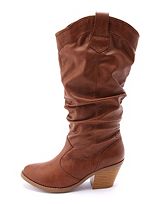 What wouldn't I wear them with?
Also, I need a skirt about this color. So that I can wear it with a white tank top, charcoal gray cardigan and braided (brown) leather belt. Clearly.